Powered By OPENAI
Prompts made easy with AI templates
AI templates turn a simple form into a sophisticated prompt, helping you get high quality, dependable results from AI. They are saveable, shareable, and reusable.
WNR.AI turns your content into templates inspired by
YC, Sequoia, Asana, McKinsey, and the WNR community.
Start For Free
Product Management
Simplify complex product management tasks with our user-friendly templates

Product Requirement Document (PRD) used by Square/Block
Project Brief used by Asana
One Pager Project Starter created by Lenny Rachitsky
Start For Free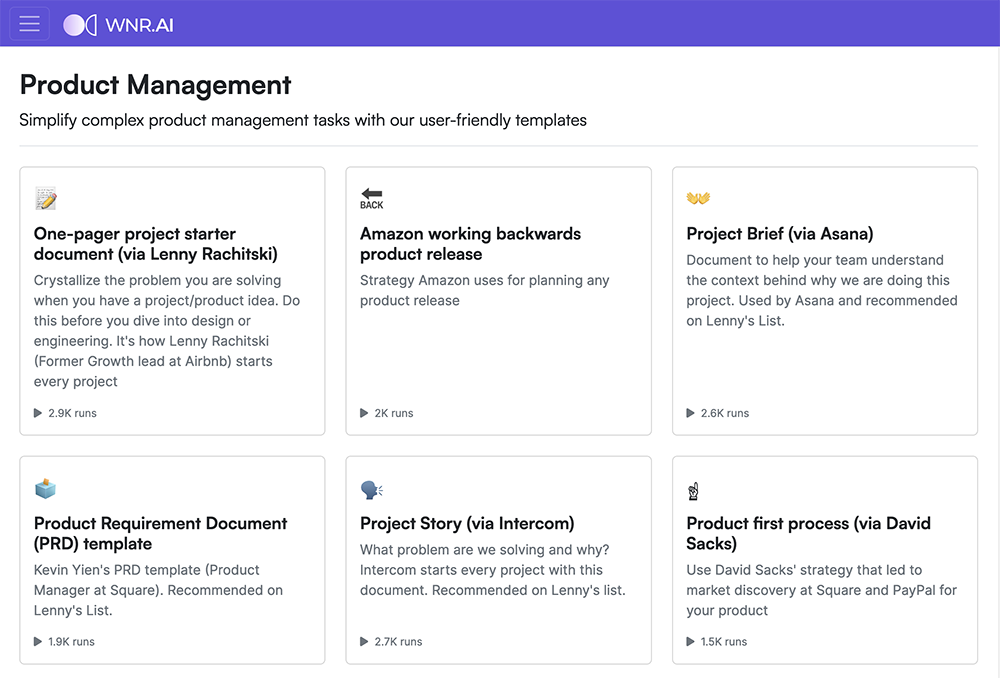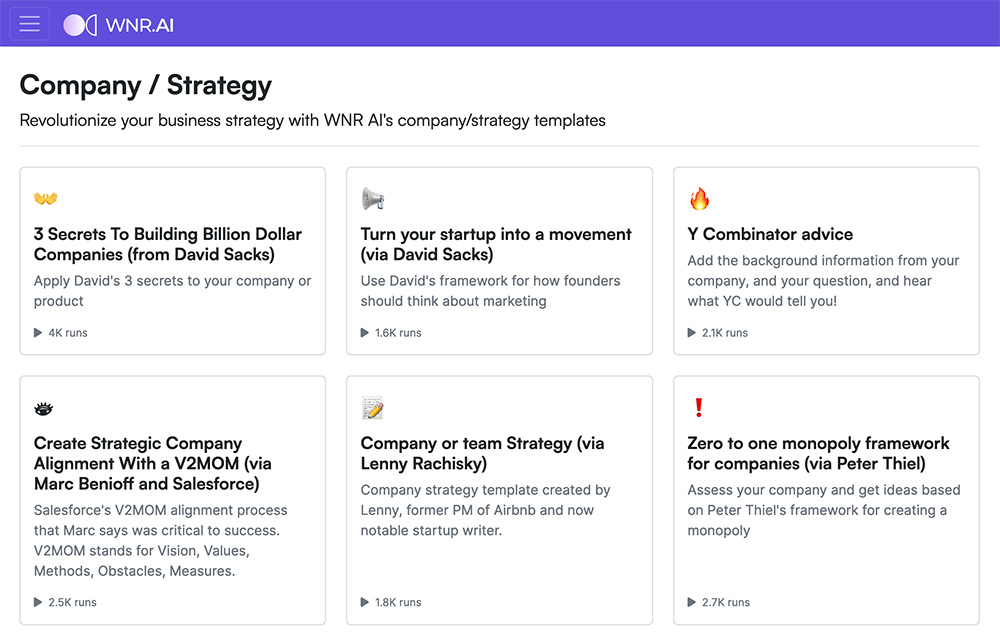 Company / Strategy
Revolutionize your business strategy with the top company/strategy templates

Advice for any startup situation via Y Combinator
Turn your company into a movement by David Sacks
Vision document created by Marc Benioff for Salesforce
Start For Free
Investor tools
Templates for both investors and founders to analyze companies using the top VC frameworks

Pitch deck / business plan recommended by Sequoia
Burn multiple with analyses by David Sacks
Zero to One 7 questions by Peter Thiel
Start For Free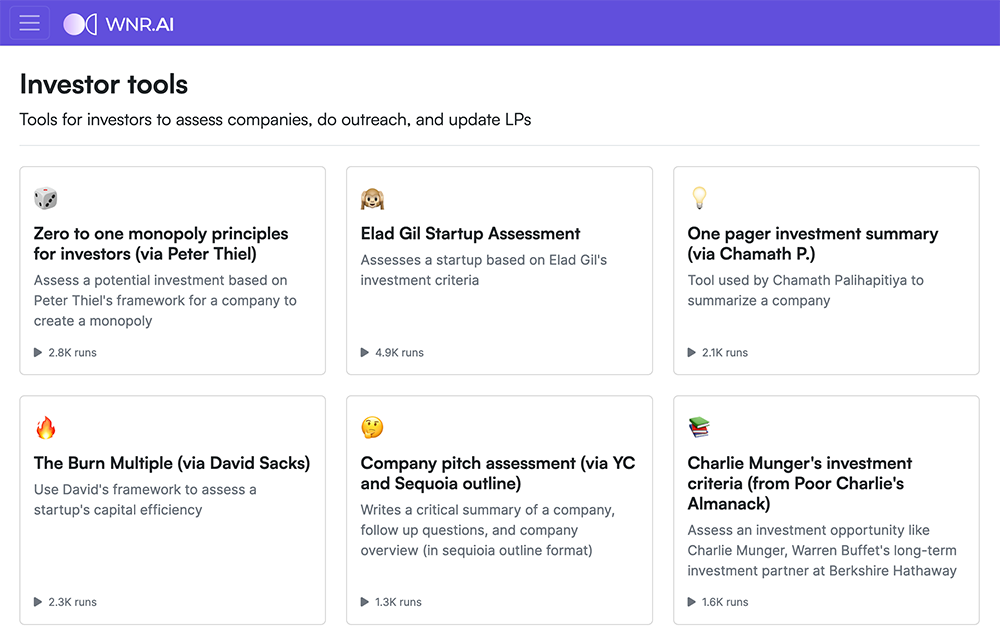 Our Promise To You
We promise you will do more high quality work this month, than ever before. You will save at least 10 hours on busywork, analyzing, editing, and overthinking.

ChatGPT Customized

For Your Needs


Design intelligent customer support and sales agents that chat live with your customers.
Marketing & PR
Tweet storms, Facebook/Google ads, press releases, and even voice and tone guidelines (from Webflow).
Product
Product requirement documents, project stories, and product led acquisition. We have everything from "Lenny's List."
Company & Vision
Company strategy, vision alignment, Amazon working backwards framework. Use these to refine the most important decisions.
Investor Relations
Sequoia business plan, Elad Gil's assessment criteria, and outbound email advice from YC. Useful for companies and investors.
Sales
Sales templates, case studies, outbound emails as recommended by YC, close.com and other top sales orgs.
Superpowers
Get superpowers from our idea generator, meetings summaries, explain any text, and article generators.
Powered By OPENAI
Customize ChatGPT

, 10x your productivity
WNR.AI is the platform for using ChatGPT, customized with your company's unique content
FAQ

WNR.AI uses artificial intelligence to analyze and process messy text provided by the user, and turn it into high-quality output with just a press of a button.
WNR.AI can process any type of text, including long, short, messy, unorganized, and sourced from typing, copy-pasting, or voice dictation.
WNR.AI can generate outputs for various purposes, such as emails, sales pitches, social posts, articles, todo lists, status reports, pitch decks, slide decks, and more.
WNR.AI offers templates that format text into outputs recommended by top companies and people, including Amazon press releases, Sequoia-style pitch decks, McKinsey-style PowerPoint slides, Asana-style status reports, and more.